Your trusted real estate agent in Antigua W.I. since 2005
US$ 1,320,000
Paradise View, Dickenson Bay, St. John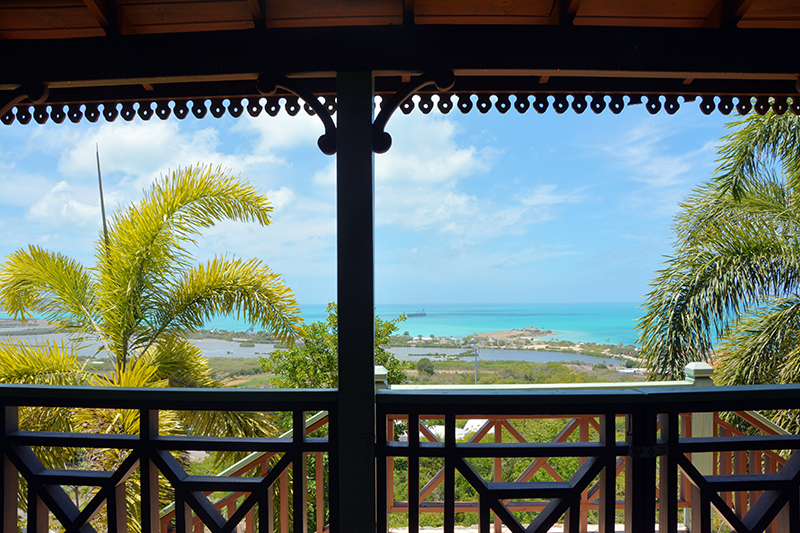 VILLA VALIA
Property Sales
US$ 1,320,000
Highlights
Caribbean Sea View
Deck
Terrace
This magnificently appointed luxury residence commands spectacular panoramic views of Antigua. Overlooking the west coast, St. John's Harbour, and the lush, rolling hills beyond, it is undoubtedly one of the most sought-after locations on the island. Rooms are well proportioned and airy, and well protected from the elements.
The two-story construction takes full advantage of the dramatic hillside site and the architectural style of the building is in keeping with the uniquely Caribbean setting: there is a distinctive use of natural materials (wood and stone in particular) as well as traditional West Indian detailing, such as fretwork, louvered windows, and a hand crafted interior stairwell wrought-iron railings. Symmetry and grandeur have been introduced to the exterior of the property by means of an elegant double staircase that leads from the main verandah to the ground floor. Equally striking is the use of local, hand-cut stone for the interior and exterior walls. Interior features have been selected with care and sensitivity and include an impressive range of European and North American antiques. A large verandah flanks the property on three sides, maximizing the potential for outdoor living and for enjoyment of the property's mature, tropical gardens and outstanding views.
Accommodation:
Lower Level/Ground Floor: An air-conditioned bedroom, bathroom, day room, spacious air-conditioned living/dining area, kitchenette, utility room, storage room, and double car port.
Upper Level/First Floor: An air-conditioned master and guest bedroom both air-conditioned and with en-suite bathrooms, living /dining area, spacious fully equipped kitchen, a wraparound verandah, and deck area.
Living areas on both floors approx. 4300 sq. ft.

Non-Living areas on both floors approx. 1700 sq. ft.

Carport and deck area on both floors approx. 800 sq. ft.

Land area approx. 0.35 acre (15,246 sq. ft.)

Construction Details:

The building foundation is constructed of reinforced concrete and concrete blocks

The exterior and interior walls consist of reinforced masonry blocks with hand cut stone cladding

The floors are concrete and finished with ceramic tiles

The main roof consists of galvanized iron sheeting on timber purlings with close boarding and exposed timber rafters

The property is being sold furnished and with the interest in it.

---
Features
Hand crafted interior stairwell wrought-iron railings
A variety of electrical appliances
Ceiling fans
Water cistern with a capacity of approx. 10,000 gallons
FG Wilson generator (17KVA) with automatic switching equipment, a 15-gallon fuel tank and a 50-gallon rve fuel tank
Sewage - Septic tank with soak-away
Paved driveway and walkway
Mature gardens and grounds with cut stone retaining walls
Electric hot water heater system
Water pressure pump
Chain link fence surrounding property
Electrically operated wrought-iron driveway gate

---
Amenities
3 Bedrooms
Caribbean Sea Views
Terrace
We accept



Strategic Alliances
We also advertise our properties internationally on the following websites:
Contact Us
Owner/Founder


Dominique D'Aloia,
+1 (268)-725-4128
dominique@paradisepropertiesconnection.com
Villa Rentals Agent

Simonetta Di Barbora,
+1 (268)-788-4888
villas@paradisepropertiesconnection.com
Administrative Assistant

Camilla Iaia,
+1(268)-561-1563
admin@paradisepropertiesconnection.com

Paradise Properties Connection Ltd.
,
English Harbour, St. John's, Antigua, W.I. ©2005-2022
Paradise Properties Connection Ltd.
St. John's, Antigua, W.I. ©2005-2022